San Ildefonso Pueblo

John F. Gonzales is a full blooded Native American Tewa Indian from the San Ildefonso Pueblo. After a distinguished academic career at Stanford University and the Massachusetts Institute of Technology, Gonzales worked in a series of administrative and management positions. In 1987 he was elected by Tribes throughout the United States as President of the National Congress of American Indians. He was the youngest person ever elected to that position with the Bush Administration as a Consultant working with Secretary of the Interior Manuel Lujan in establishing the National Indian Gaming Commission. Early in 1991, Gonzales decided that he needed to return home to New Mexico and to reinvolve himself in Pueblo life. Little did he know this would lead to a career change.
With the encouragement of his father, Lorenzo, a well-established potter, Gonzales immersed himself into the ancient tradition of working with clay. He attributes the ease of his transition from a life in politics to a career in art to the assistance of his father and sister. They made clay, slips, and polishing stones available, but, more importantly, they shared their expertise. It didn't take long for Gonzales to realize that he had a gift for working with clay. his doubts about whether or not he could make a living from his art work soon vanished.
In 1994 John Gonzales won the prestigious Southwest Association for Indian Art (SWAIA).Quail Run Fellowship. Events in 1995 led him to become more involved with the SWAIA Organization, the sponsor of the world class showcase of Indian Art-the Santa Fe Indian Market. He served on Board of Directors and served as Chairman in 1997. In October, 1998 he was honored with being inducted into the Stanford University American Indian Alumni Hall of Fame.
Gonzales has exhibited at the Santa Fe Indian Market, Eight Northern Indian Pueblos, Council Arts and Crafts Show, Eiteljorg Museum Indian Art Market in Indianapolis, Southwest Museum Indian Art show in Los Angeles, and the Heard Museum Guild Indian Fair in Phoenix. His pottery was selected for the opening exhibit at the Iris & B. Gerald Cantor Center for Visual Arts at Stanford University in January, 1999. His is especially grateful that he chose to come home when he did, since he lost his father in 1995, his mother and older brother in 1996.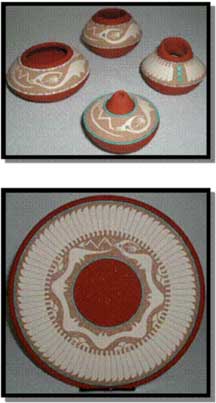 The change in careers allowed him to spend precious time with his parents. "The natural clays I gather from Mother Earth sustains me and provides me with a spiritual sense of well-being," he asserts. He firmly believes he was touched by the Creator and blessed with his artistic talent late in his life so that he could work side by side with his father and at the same time take care of his diabetic mother. "Their spirit moves through me and lies within each piece of pottery I create," Gonzales concludes. His artistic career is dedicated to their memory.